Dear Friends,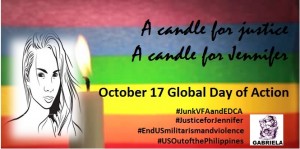 On October 17, Friday, we urge you to join us in calling the Philippine government to ensure justice, assert sovereignty and demand custody of Private First Class Joseph Scott Pemberton of the United States Marine Corps, the main suspect in the October 12 murder of Jennifer Laude, a 26-year old transgender woman. Pvt. Pemberton is in the country, together with 3,500 more US marines and navy, for a two-week military exercise under the Visiting Forces Agreement (VFA) between the US and Philippines.
Like Nicole and many more before her, Jennifer is another victim of the United States' unending quest for military power in the country and the entire Asia Pacific and the Philippine government's puppetry to imperialist power.
Hold actions, light candles in front of Philippine embassies and consulates in your country, take photos of yourselves with the calls below and post so the world will know.
Justice for Jennifer!
End US militarism and violence!
Junk VFA and EDCA!
US Out of the Philippines and Asia Pacific!
In solidarity,
Joan Salvador
International Relations Officer
GABRIELA Philippines
35 Sct. Delgado St, Brgy. Laging Handa
Quezon City, 1103 Philippines
TeleFax: (632) 374 44 23
Website: http://www.gabrielaph.com
twitter: @gabrielaphils
GABRIELA is a grassroots-based alliance of more than 200 women's organizations, institutions, desks and programs in the Philippines. We seek to wage a struggle for the liberation of women and the rest of our people.
Philippines: October 17 Global Day of Action