An die Philippinische Botschaft
Monika Gaertner-Engel
European coordinator of the World Women's Conference
Publizistikbüro Gaertner-Engel
Schmalhorststr. 1 c
45800 Gelsenkirchen
gaertner-engel@web.de
04.04.14
info@philippine-embassy.de
Dear sirs, dear madams,
I express my decided protest at the arrest of Benito Tiamzon and Wilma Austria in Manila.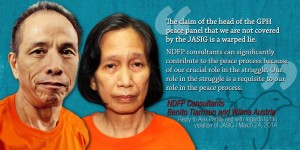 At the same time I am revolted at the arrest of Ms. Andrea Rosal by the military. She is nine month pregnant and this means her arrest is endangering her life and that of her unborn child. Is is even more a scandal, that she was given medical attention only after two days in custody.
Her only "crime" seems to be, that her father is Ka Roger Rosal, who was an NPA Commander and CPP Spokesperson before he died in 2011.
She must have been traumatized already as a three year old child, when she was snatched from her grandmother's arms by the military and taken into custody in order to exert pressure on her father, to force him to surrender.
In the name of the European World Women I demand the immediate release of  Andrea Rosal, Benito Tiamzon and Wilma Austria!
We will publish this demand in the World Women's Conference process and organize solidarity.
Monika Gaertner-Engel
European coordinator of the World Women's Conference
Protest at the arrest of Benito Tiamzon, Wilma Austria and Andrea Rosal