April 21, 2016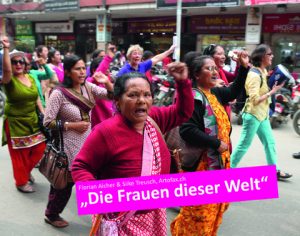 The photobook concerning the photo exhibition "Women of the World", issued by Silke Treusch and Florian Aicher, dedicated to 2nd World Women's Conference of Grassroots Women 2016 in Kathmandu, Nepal is ready and can be ordered. "The pictures transport the sparkling love of life und pleasure, the music, singing, dancing, so much colours and pride! All this despite all those burdensome subjects as oppression, expoitation, relentless injustice …. A fantastic documentation on the richness of the days in Kathmandu"  (quoted from a comment in the book).
Photo book Hardcover, DIN A 4, 76 coloured pages, 16 Euro
If you order 10 books a discount can be granted. Please contact:
florian.aicher@artofax.ch
www.artofax.de
April 1, 2016
Florian Aicher, Swiss participant of 2nd WWC gives the following information: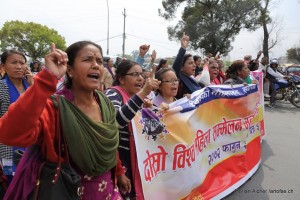 If you click here
you will find a lot of impressive pictures of Second World Women's Conference of grassroots women which took place in Kathmandu Nepal from 13th until 18th of March 2016 under the motto "Women are climbing the highest mountains!"  . Two thousand women, and also some men, participated in the militant opening rally on March 13th. One thousand three hundred participants from 48 countries, including more than 200 Nepali and international volunteers, took part in the conference. There very many discussions, celebrations and network activities.
We will edit a photo book on Second WWC. It will probably be available by May 1, 2016 for the price of approx. 15 – 20 Swiss francs. The revenues remaining by selling the phote books are used for financing Nepal travelling costs for our Swiss deputies.
If you want to book in advance, please contact florian.aicher@artofax.ch
Excellent photos on 2nd WWC online, photo book can be ordered