Report on the protest in front of the Indian Embassy in Berlin on 11-12-15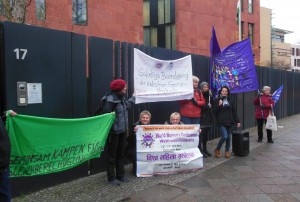 On December 11th a protest against the border blockade imposed on Nepal was held in front of the Indian embassy in Berlin.
Three Courage groups from Berlin had made the call. Together with representatives of "Solidarität International" (Solidarity International) and two Nepalese friends (among them the interpreter we had won for the World Women's Conference) we made a militant protest and read out our protest resolution in public.
They did not allow us to hand it over to the embassy, they refused to let us in. Despite announcing the protest according to the regulations on the "sidewalk in front of the Indian Embassy", the police tried to impede our action by telling us to move to the weedy central strip. We did not accept this, did not allow them to distract us and conducted our protest as planned.