Solidarität rund um den Globus für Talukder!
Weltfrauen organisieren innerhalb kürzester Zeit internationale Solidarität mit Joly Talukder und sieben weiteren Gefangenen.
Mitteilung der kommunistischen Partei Bangladesh zu den Verhaftungen, was am 1. April geschah:
1.4.18
Dear Comrade,
This is to inform you that Jolly, the general secretary of Bangladesh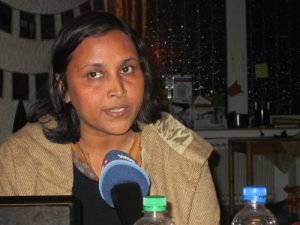 Garments Workers Trade Union Centre and other seven leaders of the same organization has been arrested and sent to jail today, 1 April 2018. Few months back regarding trade union movement on some genuine demands of the workers in a particular factory the employers association instituted a false case against the leaders of BGWTUC. The so called accused leaders went to High Court for advance bail in connection with that case. However, High Court granted them bail for four months and asked them to appear before the appropriate Lower Court. It's a normal practice that when High Court gives a bail, the Lower Court also gives bail. According to the  direction of the High Court Jolly and other leaders (so called accused) appeared before the Lower Court today. However, Lower Court refused to give them bail and sent them to jail. This is unusual. It has been done by the influence of towners association.
We shall again try to go to High Court and ask for bail. We are not sure what High Court will do this time. The process of going to High Court will take some time. In the meantime the leaders will remain in jail.
Bangladesh Garments Workers Trade Union Centre will organize protest meeting in Dhaka as well as other garments industrial areas tomorrow.
Your solidarity will strengthen our movement.
In solidarity
Haider Akbar Khan Rano
Communist Party of Bangladesh
Dies soll Ihnen mitteilen, dass Jolly, die Generalsekretärin des Bangladesh Garments Workers Trade Union Centre (Gewerkschaft) und sieben andere Führer derselben Organisation heute, am 1. April 2018, verhaftet und ins Gefängnis gesteckt wurden.
Vor einigen Monaten hat der Arbeitgeberverband in Bezug auf die Gewerkschaftsbewegung auf einige echte Forderungen der Arbeiter in einer bestimmten Fabrik ein falsches Verfahren gegen die Führer des BGWTUC (Gewerkschaft) eingeleitet. Die so genannten beschuldigten Führer gingen an den Obersten Gerichtshof, um im Zusammenhang mit diesem Fall eine Vorauskaution zu erhalten. Der Oberste Gerichtshof gewährte ihnen jedoch eine Kaution von vier Monaten und bat sie, vor dem zuständigen Untergericht zu erscheinen. Es ist eine übliche Praxis, dass, wenn das Oberste Gericht eine Kaution stellt, das Untere Gericht auch eine Kaution stellt. Nach der Anweisung des Obersten Gerichtshofes sind heute Jolly und andere Führer (so genannte Angeklagte) vor dem Untergericht erschienen. Das Gericht weigerte sich jedoch, sie mit Kaution gehen zu lassen und schickte sie ins Gefängnis. Das ist ungewöhnlich. Sie wurde unter dem Einfluss der Eigentümergemeinschaft durchgeführt.
Wir werden wieder versuchen, zum Obersten Gerichtshof zu gehen und Kaution zu verlangen. Wir sind nicht sicher, was der Oberste Gerichtshof diesmal tun wird. Der Prozess, zum High Court (Obersten Gericht) zu gehen, wird einige Zeit in Anspruch nehmen. In der Zwischenzeit bleiben die Anführer im Gefängnis.
Die Gewerkschaft organisiert morgen Protest in Dhaka und anderen Industriezentren,
eure Solidarität wird unsere Bewegung stärken,
in Solidarität, Haider Akbar Khan Rano, Kommunistische Partei Bangladesh
Aus Indien schrieb Sharmista Choudhury: "Yes, let us all protest and campaign against the arrest of Joly and her comrades. Sharmista"
Ja, lasst uns protestieren und Kampagnen machen gegen die Verhaftung von Joly und ihren Kameraden.
Aus Deutschland
Dear Joly, dear colleagues!
We have learned from the crass and undemocratic actions against our friends and protest in the strongest!
Joly Talukder has become known in Germany through the deep cooperation with our union. we will do everything we can to free them and bring the government in Bangladesh to justice. Without women like Joly, there would be no minimum wage for textile workers, and the division among workers in the world would be aggravated. we want to pick them up! in deep friendship and solidarity, Nina Dusper and Reingard Kirhouse / Verdi District Women's Council Duisburg
Lieber Joly, liebe Kollegen!
Wir haben aus den krassen und undemokratischen Aktionen gegen unsere Freunde gelernt und protestieren am stärksten!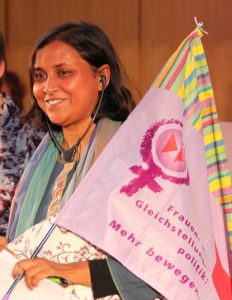 Joly Talukder ist in Deutschland durch die enge Zusammenarbeit mit unserer Gewerkschaft bekannt geworden. Wir werden alles tun, um sie zu befreien und die Regierung in Bangladesch vor Gericht zu bringen. Ohne Frauen wie Joly gäbe es keinen Mindestlohn für Textilarbeiter, und die Spaltung unter den Arbeitern in der Welt würde sich verschärfen. Wir wollen sie abholen! in tiefer Freundschaft und Solidarität,
Nina Dusper und Reingard Kirhouse / Verdi Kreis Frauenrat Duisburg
Aus Tunesien:
I have tried several times to send the message of support. Finally, he arrived. It is signed Saloua Guiga and Sabah Affès of Tunis, members of WWC.
Long live feminist solidarity
Saloua Guiga
Ich habe viele Male versucht die Mitteilung zu senden, zuletzt kam sie an. Sie ist unterzeichnet mit  Saloua Guiga (Koordinatorin des Nahen und Mittleren Osten) und  Sabah Affès, Mitglieder der Weltfrauenkonferenzen. Lang lebe die feministische Solidarität.
Aus Uganda
Oh very sad news,
We are fighting for immediate release of Joly Talukder and her colleagues,  world women enough is enough let us stand as women and fight for our fellow women,  please please we request for you immediate release of our  women
Let us wait to see by the end of the day we hope they would have been released.
From uganda,
Mwambu Margaret Jane
Wir kämpfen für die sofortige Freilassung von Joly Talukder und ihrer Kollegen,
WeltFrauen, genug ist genug, lassen Sie uns als Frauen aufstehen und kämpfen für unsere Mitfrauen, bitte wir bitten Sie um sofortige Freilassung unserer Frauen.
Warten wir bis zum Ende des Tages, von dem wir hoffen, dass sie freigelassen werden.
Aus Nepal:
Dear European Coordinators,
Dear Asian Coordinators
Revolutionary Salute and remember from Nepal !
With reference to attached mail relating to sad news  about arresting and sending  the general secretary of Bangladesh Garments Workers Trade Union Centre, Joly  Talukdar with her 7 other leaders of same Organization on 1 April 2018,so we express our solidarity on their  protest  and demand for their immediate release  with their Goverment !
Best regards,
Sarita Maharjan
Coordinator
Foreign Department of ANWA (Revolutionary)
In Bezug auf die erreichte Post, die sich auf traurige Nachrichten über die Verhaftung und Entsendung des Generalsekretärs des Bangladesh Garments Workers Trade Union Centre, Joly Talukdar mit ihren 7 anderen Führern derselben Organisation am 1. April 2018 bezieht, bringen wir unsere Solidarität mit ihnen zum Ausdruck und fordern ihre sofortige Freilassung von der Regierung!
Sarita Maharjan, Koordinatorin der Auslandsabteilung von ANWA
Aus Argentinien
Ok. We'll be sending our note demandig her immediate freedom. Tomorrow. Best regards. Susana
Ok. Wir werden unsere Nachricht schicken, die ihre sofortige Freiheit fordert. Morgen.
Mit freundlichen Grüßen Susana
Aus Ecuador
Aus Ecuador und im Namen von Women for Change halten wir an dieser Forderung nach Jolys Freiheit fest. Ab morgen werden wir diese Forderung nach Freiheit über soziale Netzwerke verbreiten.
Wir werden dieses Kommuniqué auch über das Netzwerk des zweiten Treffens von Frauen aus Lateinamerika und der Karibik verbreiten.
Cristina Cachaguay
NATIONALE PRÄSIDENTIN DER FRAUEN FÜR DEN WANDEL IN ECUADOR
Cecilia Jaramillo J.
Vorbereitungsausschuss für das zweite Treffen von Frauen aus Lateinamerika und der Karibik
Desde Ecuador y a nombre de Mujeres por el Cambio, nos adherimos a esta demanda de libertad para Joly. Desde mañana por las redes sociales difundiremos esta demanda de libertad.
De igual manera vamos adifundir este comunicado en la Red del Segundo Encuentro de Mujeres de América Latina y El Caribe
Firman:
Cristina Cachaguay
PRESIDENTA NACIONAL DE MUJERES POR EL CAMBIO DE ECUADOR
Cecilia Jaramillo J.
Comité Preparatorio del Segundo Encuentro de Mujeres de América Latina y El Caribe
aus Deutschland vom kämpferischen Frauenrat:
Protest declaration
In the name of the Women's Political Counsel we demand that Joly Talukder and seven other union leaders of the Garments Workers Trade Union Centre will be released immediately!
Joly Talukder was our guest in Germany several times.  We know her as a sister, who shows her solidarity to us in many cases. She came to our Women's political counsels, which are the greatest self-organized women events in Germany. She has many sisters in our country. We are together in the movement of the World Women's conference.

We have heart that Joly has been arrested and sent to jail since 1 April 2018 and that Joly Talkuder is in solitary confinement. This is a monstrosity.  For us all accusations against Joly Talukder and her colleagues are fabricated lies.
We demand the immediate release of Joly Talukder and her colleagues!
Joly Talukder is one of the respected coordinators of the World Women's Conference and we protest vehemently against the solitary confinement of Joly Talukder!
We will distribute this protest declaration internationally.
In the name of the coordination group of the women's political council
Anne Wilhelm
Martina Stalleicken/Marxist-Leninist Party of Germany, 3rd of April 2018
Dear friends of the Garments Workers' Trade Union Centre,
I have learned that Joly Talukder and seven other trade union leaders have been arrested – I am outraged!
The MLPD immediately made this public. The European Coordinators of the World Womens Conference have called for international solidarity. Solidarity already exists from Europe, Asia and Africa!
In Germany, we were recently able to welcome five Turkish revolutionaries back from prison. They had been in prison for two years, not for any crime, but because of their communist attitude. Like you, they were in solitary. At her receiption, comrade Banu said: "Although I was isolated, I never felt alone. Your huge solidarity overcame the prison walls!"
We say to you: Dear friends, dear Joly, that is exactly what we assure you and your fellow fighters, warmest greetings!
Maybe you can find a way to convey our regards to Joly.
Martina Stalleicken
To the Supreme Court of Bangladesh
Dear Ladies and Gentlemen!
I heard about the arrestment of Joly Talukder by you. I am outraged! She's a brave woman. We are in full solidarity with her. I myself know Ms Talukder from a good and solidary cooperation. Ms. Talukder has visited us several times in Germany. With her competent and committed experience, she has often worked together with us to provide valuable information about the lives and situation of predominantly young women working in the textile industry in Bangladesh. In this, she was – and is – the contact person for trade union representatives and an interview partner for radio and television. Her arrest – and above that, in solitary confinement – will cause widespread indignation in Germany. On behalf of many comrades-in-arms and my party, the Marxist-Leninist Party of Germany and its youth league REBELL, I protest expressly against Ms Talukder's arrest and call for her immediate release. We will not hesitate to inform the public further and to organise broad solidarity!
Martina Stalleicken, MLPD spokeswoman on women's policy
Protesterklärung der Bundesvertretung von Solidarität International (SI) e.V.
Wir protestieren gegen die erneute Verhaftung von Joly Talukder und sieben weiteren gewerkschaftlichen Führungskräften der Bangladesh Garments Workers Trade Union (GWTU).
Joly Talukder als Generalsekretärin der GWTU wurde zudem in Isolationshaft gesetzt.
Wir fordern die sofortige Freilassung dieser mutigen Frauen, die sich unter schwierigen Bedingungen für die Belange der TextilarbeiterInnen in Bangladesch einsetzen und die ArbeiterInnen in der GWTU organisieren.
Mit Joly verbindet uns eine jahrelange Freundschaft und Zusammenarbeit und wir sammeln aktuell Spenden für die Unterstützung gewerkschaftlicher Organizerinnen in Bangladesch.
Wir werden diese Erklärung an alle Gruppen unseres Verbandes und unsere internationalen Partner weitergeben und nach Kräften die Solidarität helfen zu entwickeln.
i.A. der Bundesvertretung von Solidarität International (SI) e.V.
Renate Radmacher, Alexander Schmidt, Ute Kellert, Waltraut Bleher, Axel Kassubek