08/04/2018
Dear participants,
In a few days our European Conference of World Women will begin. We are looking forward to seeing you soon.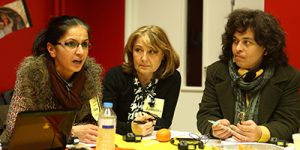 So that you also everything works well, we send you some hints and the program.
Please bring along the following:
Slippers
Sleeping bag and sheets or bed linen
If you only have small luggage on the plane, we have 30 x bed linen available
torch
For the festival in the evening, please bring each delegation a cultural contribution
Please pay at the registration:
All inclusive card 128.-SFR / 114 Euro (2 nights, full board and all drinks 100.- SFR / 89 Euro plus participation fee for the conference 28.-SFR / 25 Euro)
Day ticket 45 CHF / 40 Euro for Saturday 14.4.18 (participation fee including full board Saturday)
It can only be paid in cash SFR / Euro.
Getting there:
We pick up all registered participants at the times indicated. Please wait there, if there is a slight delay, pay attention to the person with the sign "European Conference"
Meeting point airport:
At the exit after the customs (on arrival)
Meeting point Konstanz:
Central Station: 4:15 pm in front of the Mc Donald (opposite the main entrance of the station)
Bus station / Döbele: Next to the kiosk / toilet house
Meeting point Mannenbach / Salenstein: On the forecourt
For the drivers:
Coming from Stuttgart, A81 to B33 Konstanz / Radolfzell follow in Reichenau
Follow B33 and Route 13 to Seeschau in Salenstein, Switzerland
19 min. (15.3 km) // Turn right to stay on B33 6.4 km // Turn right direction Gottlieber Str.110 m // Continue onto Gottlieber Str.
You are soon in Switzerland.69 m //
Continue on Gottlieber Str./Konstanzerstrasse/Route 16 // Continue on Konstanzerstrasse / Route 16 1.2 km // Turn right onto Gassa / Konstanzerstrasse / Route 13 / Route 16 // Continue on Konstanzerstrasse / Route 13 / Route 16 1.3 km // At the roundabout, take the first exit Hauptstrasse / Route
Take the 13 direction Schaffhausen / Ermatingen // turn left onto Seeschau 50 m
From Mannenbach we have signposted the way.
In Mannenbach / Salenstein from Konstanz, drive up the Louisenbergstrasse on the left side and keep to the right. Through the forest, after a few hundred meters on the right side is the Wartburg. Parking is about 100 meters further above.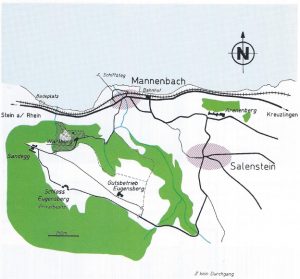 If you need help on the way or have any questions, here are our emergency phone numbers:
Silke: 0041 79 727 00 54
Flea: 0041 76 251 37 13
Best regards
Silke Switzerland – Committee
For more information: http://www.weltfrauenkonferenz.ch/
Information on 6. European WWConference