European Coordinators of the World Women' s Conferences of grassroots women
Dear friends,
we learned that our worldwoman and coordinator of Asia, Joly from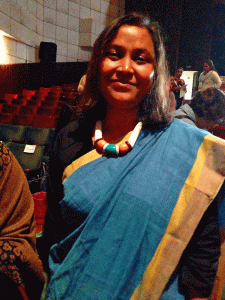 Bangladesh has been arrested today and taken in solitary confinement. Let´ s send a solidarity and protest note to her union. Please spread this message to many other people you know. Thanks for solidarity.
As attachment we have a proposal to send to her union. Also you can send it to the court.
militant greetings, Suse Bader (Germany) and Halinka Augustin (Netherlands)
Solidarity addresses can be sent to the following address:
Garment Workers' Trade Union Centre, Mukti Bhaban, 2 Comrade Moni Shingha Road, Dhaka-1000
Here you can leave solidarity addresses on the homepage of the Garment Workers' Trade Union Centre: http://www.gwtuc.org/contact-us-2/ (try several times if necessary)
 or send an E-Mail to  Monzur Moin: monzurmoin@gmail.com
Protest declaration
We demand that Joly Talukder and seven other union leaders of the Garments Workers Trade Union Centre will be released immediately !

We have learned that Joly, the general secretary of Bangladesh Garments Workers Trade Union Centre and other seven leaders of this organization have been arrested and sent to jail today, 1 April 2018.
We also learned that Joly Talkuder is in solitary confinement. This is a monstrosity.
All accusations against Joly Talukder and her colleagues are fabricated lies.
We demand the immediate release of Joly Talukder and her colleagues!
Joly Talukder is one of the respected coordinators of the World Women's Conference and we protest vehemently against the solitary confinement of Joly Talukder !
We will distribute this protest declaration internationally.
Solidarity to Joly Talukder!