European Coordinators of the 2nd World Women's Conference of grassroots women
Halinka Augustin (Netherlands), Monika Gaertner-Engel (Germany)
Maria Hagberg (Sweden), Angélica Urrutia (Germany), deputies
To the Women of Europe
Call for International Women's Day, March 8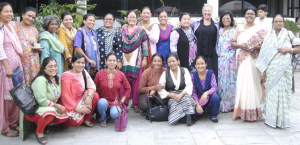 Dear women,
March 8 we go out on the streets and hold rallies and other activities together with millions of other women all over the world. International Women's Day is one of thecommon days of action and struggle of the
World women – those women worldwide who are preparing and will be holding the 2nd World Women's Conference of grassroots women in Kathmandu/Nepal from 13 to 18 March, 2016.
Women's Women's consciousness and internationalist cooperation is growing, worldwide and in Europe. In the Europe wide actual refugee disaster, refugee women and their children often are the most affected – and women often are in the forefront, when it comes to organizing international solidarity and practical help on grass-roots level.
…
Download full Call for selfprinting:
160207 Call 8 March Layout – US for self printing
Download Call for printshops:
160207 Call 8 Maerz Layout – US for printshop
European Coordinators call for International Women's Day 2016