Dear friends,
we are very sad to announce that our beloved friend and comrade Sharmistha passed away on 13/06/21 in a hospital in Kolkatta.
It is terrible and sad news and we wish our comrades and friends in India and her family much strength and solidarity.
Sharmistha was a cornerstone of revolutionary and women's work in India and internationally. She was a leading force in the struggle of peasants in West Bengal for the preservation of their environmental and living resources.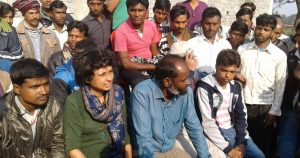 She will be sorely missed by our friends in India and by all of us in the militant women's movement as a friend, comrade and comrade-in-arms. Sharmistha only turned 45 years old.
A few weeks ago she contracted the coronavirus and had to be hospitalized because of additional problems caused by the disease. She got sick again when she was participating in the election campaign in Bhangar and had to stay away from all activities from then on. She was hospitalized on the eve of June 13.
European coordinators Halinka Augustin and Suse Bader
We mourn the loss of Sharmistha Choudhury