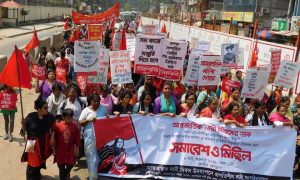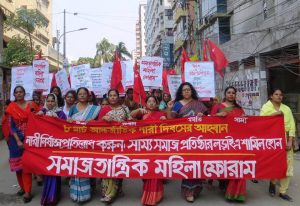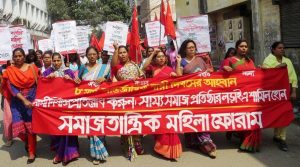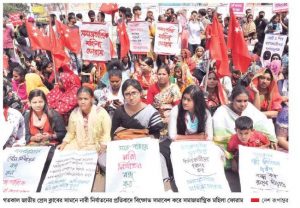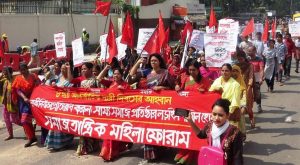 Brief des SWF Bangladesh 8 March 2019 als PDF Datei
Dear Sisters & Women Activists,
Solidarity greetings to all on International Women's Day. On 109th International Women's Day Socialist Women's Forum organized a rally at 11am 8th March 2019. Also six leftist women's organizations including Socialist Women's Forum observed International Women's Day jointly. Our call was 'protest rape-sexual harassment-violence and come on the struggle to establish women with human dignity and equal right'. On this occasion we demanded ' Equal right on inheritance'; 'Equal-wage on equal-work'; 'Establish uniform civil code'; 'Economic value of household works in GDP'; 'Stop violence against women'; 'Stop gender-base violence at work' etc.
Please keep us informed about your activities, analysis and keep in touch.
Comradely yours
Shampa Basu
General Secretary/Central Committee
Socialist Women's Forum
deepl Übersetzung:
Solidarische Grüße an Alle am Internationalen Frauentag. Am 109. Internationalen Frauentag organisierte das Sozialistische Frauenforum am 8. März 2019 um 11 Uhr eine Demonstration. Auch sechs linke Frauenorganisationen, darunter das Socialist Women's Forum, haben gemeinsam am Internationalen Frauentag teilgenommen. Unser Aufruf lautete "Protest gegen sexuelle Belästigung – Gewalt und der Kampf um die Verwirklichung von Frauen mit Menschenwürde und Gleichberechtigung". Bei dieser Gelegenheit forderten wir ' Gleiches Recht auf Erbschaft'; 'Gleiches Entgelt für gleiche Arbeit'; 'Einheitliches Zivilgesetzbuch'; 'Wirtschaftlicher Wert von Haushaltsarbeiten im BIP'; 'Gewalt gegen Frauen beenden'; 'Geschlechterbezogene Gewalt am Arbeitsplatz beenden' usw.
Bitte informieren Sie uns über Ihre Aktivitäten, Analysen und bleiben Sie in Kontakt.
Grüße zum Frauentag 2019 aus Dhaka/Bangladesh vom Socialist Women's Forum