WWW-country reports/greetings – continent: Latin America
Here you find the WWC country greeting given by the deputies from Latin America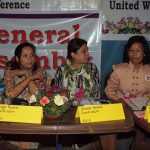 during General Assembly on March 16th and 17th, 2016 in Kathmandu, Nepal.
Latin America, which has shown the world that a better system is possible and has courageously risen against the power of US imperialism, is again witnessing a rise in right-wing reaction, as evident in the results of elections in Venezuela and Brazil.
Due to different reasons, only few delegates from Latin America, among others from Peru, could participate in 2nd WWC.
Greetings from Venezuela:
Greetings from Venezuela
Letter from activists serveral countries (spanish):
latin America